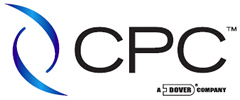 无论您是使用简便油桶,桶或中型散装容器(IBCs), 我们的DrumQuik分配系统适合几乎任何容器使用,"封闭"地提取容器中的化学品或食品为主的液体。备有不同尺寸和材料选择的汲取管系统,我们的解决方案有效减少危险品暴露,同时保护您的流体本身免受污染。 安全地连接化学品。不管您的应用程序条件为何,安全性必然是您的优先考虑。当涉及到化学品的处理,没有其他公司比CPC更认真地研发快速断开管件、密封、接头和化学分配系统, 以保护工人的作业安全,防止化学品泄漏和溢出污染环境。我们的耐化学腐蚀的产品满足各种应用,如半导体、织物和陶瓷染料、调味剂、液晶显示器、太阳能电池、医药制造和化学品管理等等。DrumQuik PRO is changing the world of chemical management with its unique closed-system design. The DrumQuik dispensing system for smarter chemical management provides safe, easy and economical extraction of chemicals from drums, jerricans and IBC totes—while reducing spills, containing hazardous fumes and enhancing workplace safety.
DrumQuik PRO Video
视频

功能与效益

Quick connect/disconnect
Faster container change-outs
Automatic shutoff valve
Stops flow when disconnected
Disposable container insert
Reduces chemical exposure and messy handlig

产品规格
Pressure
Uncoupled: Vacuum to 45 psig (3.1 bar)
Coupled: Vacuum to drum rating
Temperature
Drum Insert: -20°to 120°F (-29°to 49°C)
Coupler: HDPE, 32° to 120°F (0° to 49°C)
材料:
Drum insert & dip-tube: Virgin polyethylene (HDPE)
Shipping plug: Virgin polyethylene (HDPE), FKM
Valves:
316 stainless steel, Hastelloy C, virgin PEEK UHP, PPS or Teflon encapsulated 316 stainless steel (TESS)

密封材料:

Coupler seals: EPDM, FKM, Simriz UHP FFKM Perfluoroelastomer
Bung seal: Polyolefin, EPDM, FKM
Shipping plug seal: EPDM, FKM
Torque specifications
2" Buttress - 20ft-lbs (27 N m)
BCS 56x4 - 20ft-lbs (27 N m)
2" NPS (plastic drum) - 20ft-lbs (27 N m)
2" NPS (steel drum) - 15ft-lbs (20 N m)
Shipping plug - hand tight
Note: The torque specifications listed above are general recommendations which may need to be adjusted + or – depending on specific application.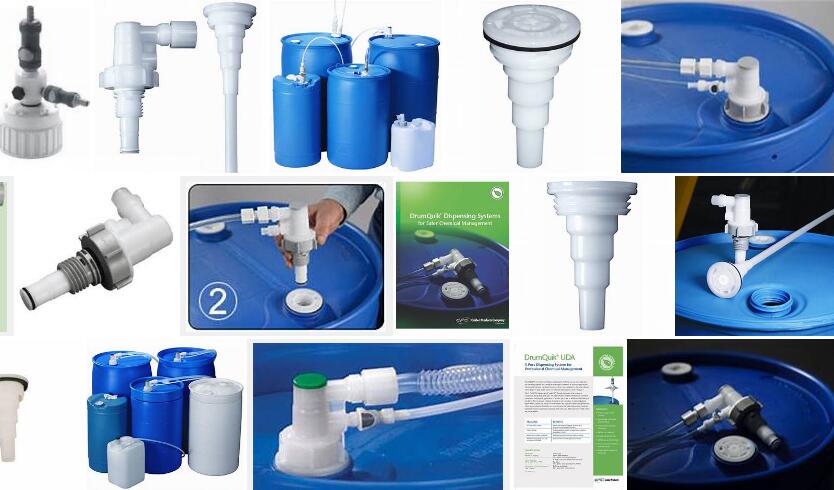 产品型号和规格参数
产品Dip-Tubes Products Dip-Tubes
DQPRODT0410

Dip-tube 13.0" or 330mm long for 5 gal/25L Jerry Cans

DQPRODT0985

Dip-tube 35.5" or 905mm long for 55gal/200L Drums

DQPRODT1070

Dip-tube 39.0" or 990mm long for 275gal/1040L IBCs

DQPRODT1274

Dip-tube 47.0" or 1194mm long for 330gal/1250L IBCs
Drum Inserts
DQPRO202BUT

Drum Insert with 2" American Buttress Thread and EPDM O-Rings (North American Plastic Drums)

DQPRO202BUT202

Drum Insert with 2" Buttress Thread and with FKM (Viton) O-Rings (North American Plastic Drums)

DQPRO2056X4

Drum Insert with BSC56X4 Thread (European Plastic Drums)

DQPRO2056X4202

Drum Insert BSC 56X4 with FKM seal (Metric Thread)

DQPRO20BCS70

70mm Thread Drum Insert with EPDM Seal for European 70x6 and Asian 70x5 (Plastic Drum)

DQPRO20BCS70202

70mm Thread Drum Insert with FKM (Viton) Seal for European 70x6 and Asian 70x5 (Plastic Drum)

DQPRO20G2NPSPL

Drum Insert with 2" NPS (ISO G2) Thread and EPDM Flat Bung Seal (Plastic Drums and IBC Caps)

DQPRO20G2NPSPL202

Drum Insert with 2" NPS (ISO G2) Thread and FKM (Viton) Flat Bung Seal (Plastic Drums and IBC Caps)

DQPRO20G2NPSST

Drum Insert with 2" NPS (ISO G2) Thread and EPDM O-Rings (Steel Drums and IBC Caps)

DQPRO20G2NPSST202

Drum Insert with 2" NPS (ISO G2) Thread and FKM (Viton) O-Rings (Steel Drums and IBC Caps)
Fittings, Valves and Accessories
DQPRO70X6AD

70 X 6 Adaptor with EPDM O-Ring

DQPRO70X6AD202

70 X 6 Adaptor with FKM (Viton) O-Rings

DQPROFIL01

Air Filter, Coupler Vent Port, Polypropylene, 70 Micron

O-Rings and Seals O型圈和密封
DQADAPP0212

Adaptor, 3/4 FNPT Inner Port X 3/4 NPS Male Thread (for Asian Drums)

DQADAPP0622

Adaptor, 3/4 FNPT Inner Port X 1-3/8 Male Buttress Thread (for Asian Drums)

DQMBUNGPP2BUT12

Bung Closure, EPDM O-Ring, 2" Buttress X 3/4 NPS Female Thread

DQMBUNGPP2NPS12

Bung Closure, EPDM O-Ring, 2" NPS X 3/4 NPS Female Thread

DQMBUNGPP56X412

Bung Closure, EPDM O-Ring, BCS56X4 X 3/4 NPS Female Thread

DQMBUNGPP70X612

Bung Closure, EPDM O-Ring, BCS70X6, 3/4 NPS Female Thread

DQMCAPPP63MM

Cap Closure, EPDM O-Ring, 63mm, 3/4 NPS Female Thread

DQMCAPPP70MM

Cap Closure, EPDM O-Ring, 70mm X 3/4 NPS Female Thread
Other Sample Kits
DQPRO120208

1/2 MNPT Elbow Coupler, with EPDM O-Rings and 316 Stainless Spring

DQPRO120208202

1/2 MNPT Elbow Coupler with FKM (Viton) O-Rings and 316 Stainless Spring

DQPRO120208206

1/2 MNPT Elbow Coupler with EPDM O-Rings and Hastelloy C Spring

DQPRO120208207

1/2 MNPT Elbow Coupler with FKM (Viton) O-Rings and Hastelloy C Spring

DQPRO120312

3/4 Hose Barb Elbow Coupler with EPDM O-Rings and 316 Stainless Spring

DQPRO120712

3/4 BSPP Elbow Coupler with EPDM O-Rings and 316 Stainless Spring


DQPRO120712202

3/4 BSPP Male Elbow Coupler with FKM (Viton) O-Rings and 316 Stainless Spring


DQPRO120712206

3/4 BSPP Male Elbow Coupler with EPDM O-Rings and Hastelloy C Spring


DQPRO120712207

3/4 BSPP Male Elbow Coupler with FKM (Viton) O-Rings and Hastelloy C Spring

DQPROEUSAMP

European Sample Kit, includes BSC 56X4 Drum Insert, 905mm Dip-tube, 3/4 BSPP Coupler with EPDM O-Rings and 316 Stainless Spring

DQPROEUSAMP207

European Sample Kit, includes BSC 56X4 Drum Insert, 905mm Dip-tube, 3/4 BSPP Coupler with FKM (Viton) O-Rings and Hastelloy C Spring

DQPRONASAMP

North American Sample Kit, includes 2" Buttress Drum Insert, 905mm Dip-Tube, 1/2 NPT Coupler with EPDM O-Rings and 316 Stainless Spring

DQPRONASAMP207

North American Sample Kit, includes 2" Buttress Drum Insert, 905mm Dip-Tube, 1/2 NPT Coupler with FKM (Viton) O-Rings and Hastelloy C Spring


DQPRONPSPLSAMP

Sample Kit, includes 2" NPS (ISO G2) Drum Insert, 905mm Dip-tube, 1/2 NPT Coupler with EPDM Flat Gasket and 316 Stainless Spring


DQPRONPSPLSAMP207

Sample Kit, includes 2" NPS (ISO G2) Drum Insert, 905mm Dip-tube, 1/2 NPT Coupler with FKM (Viton) O-Rings and Hastelloy C Spring

DQPRONPSSTSAMP

Sample Kit, includes 2" NPS (ISO G2) Drum Insert, 905mm Dip-tube, 1/2 NPT Coupler with EPDM Bung O-Rings and 316 Stainless Spring

DQPRONPSSTSAMP207

Sample Kit, includes 2" NPS (ISO G2) Drum Insert, 905mm Dip-tube, 1/2 NPT Coupler with FKM (Viton) O-Rings and Hastelloy C Spring
Dip-tube 13.0" or 330mm long for 5 gal/25L Jerry Cans
DQPRODT0410
Dip-tube 13.0" or 330mm long for 5 gal/25L Jerry Cans

Dip-tube 35.5" or 905mm long for 55gal/200L Drums
DQPRODT0985
Dip-tube 35.5" or 905mm long for 55gal/200L Drums

Dip-tube 39.0" or 990mm long for 275gal/1040L IBCs
DQPRODT1070
Dip-tube 39.0" or 990mm long for 275gal/1040L IBCs

Dip-tube 47.0" or 1194mm long for 330gal/1250L IBCs
DQPRODT1274
Dip-tube 47.0" or 1194mm long for 330gal/1250L IBCs
Drum Inserts
Drum Insert with 2" American Buttress Thread and EPDM O-Rings (North American Plastic Drums)
DQPRO202BUT
Drum Insert with 2" American Buttress Thread and EPDM O-Rings (North American Plastic Drums)

Drum Insert with 2" Buttress Thread and with FKM (Viton) O-Rings (North American Plastic Drums)
DQPRO202BUT202
Drum Insert with 2" Buttress Thread and with FKM (Viton) O-Rings (North American Plastic Drums)

Drum Insert with BSC56X4 Thread (European Plastic Drums)
DQPRO2056X4
Drum Insert with BSC56X4 Thread (European Plastic Drums)

Drum Insert BSC 56X4 with FKM seal (Metric Thread)
DQPRO2056X4202
Drum Insert BSC 56X4 with FKM seal (Metric Thread)
70mm Thread Drum Insert with EPDM Seal for European 70x6 and Asian 70x5 (Plastic Drum)
DQPRO20BCS70
70mm Thread Drum Insert with EPDM Seal for European 70x6 and Asian 70x5 (Plastic Drum)

70mm Thread Drum Insert with FKM (Viton) Seal for European 70x6 and Asian 70x5 (Plastic Drum)
DQPRO20BCS70202
70mm Thread Drum Insert with FKM (Viton) Seal for European 70x6 and Asian 70x5 (Plastic Drum)

Drum Insert with 2" NPS (ISO G2) Thread and EPDM Flat Bung Seal (Plastic Drums and IBC Caps)
DQPRO20G2NPSPL
Drum Insert with 2" NPS (ISO G2) Thread and EPDM Flat Bung Seal (Plastic Drums and IBC Caps)

Drum Insert with 2" NPS (ISO G2) Thread and FKM (Viton) Flat Bung Seal (Plastic Drums and IBC Caps)
DQPRO20G2NPSPL202
Drum Insert with 2" NPS (ISO G2) Thread and FKM (Viton) Flat Bung Seal (Plastic Drums and IBC Caps)
Drum Insert with 2" NPS (ISO G2) Thread and EPDM O-Rings (Steel Drums and IBC Caps)
DQPRO20G2NPSST
Drum Insert with 2" NPS (ISO G2) Thread and EPDM O-Rings (Steel Drums and IBC Caps)

Drum Insert with 2" NPS (ISO G2) Thread and FKM (Viton) O-Rings (Steel Drums and IBC Caps)
DQPRO20G2NPSST202
Drum Insert with 2" NPS (ISO G2) Thread and FKM (Viton) O-Rings (Steel Drums and IBC Caps)
Fittings, Valves and Accessories
70 X 6 Adaptor with EPDM O-Ring
DQPRO70X6AD
70 X 6 Adaptor with EPDM O-Ring

70 X 6 Adaptor with FKM (Viton) O-Rings
DQPRO70X6AD202
70 X 6 Adaptor with FKM (Viton) O-Rings

Air Filter, Coupler Vent Port, Polypropylene, 70 Micron
DQPROFIL01
Air Filter, Coupler Vent Port, Polypropylene, 70 Micron
O-Rings and Seals
Adaptor, 3/4 FNPT Inner Port X 3/4 NPS Male Thread (for Asian Drums)
DQADAPP0212
Adaptor, 3/4 FNPT Inner Port X 3/4 NPS Male Thread (for Asian Drums)

Adaptor, 3/4 FNPT Inner Port X 1-3/8 Male Buttress Thread (for Asian Drums)
DQADAPP0622
Adaptor, 3/4 FNPT Inner Port X 1-3/8 Male Buttress Thread (for Asian Drums)

Bung Closure, EPDM O-Ring, 2" Buttress X 3/4 NPS Female Thread
DQMBUNGPP2BUT12
Bung Closure, EPDM O-Ring, 2" Buttress X 3/4 NPS Female Thread

Bung Closure, EPDM O-Ring, 2" NPS X 3/4 NPS Female Thread
DQMBUNGPP2NPS12
Bung Closure, EPDM O-Ring, 2" NPS X 3/4 NPS Female Thread
Bung Closure, EPDM O-Ring, BCS56X4 X 3/4 NPS Female Thread
DQMBUNGPP56X412
Bung Closure, EPDM O-Ring, BCS56X4 X 3/4 NPS Female Thread

Bung Closure, EPDM O-Ring, BCS70X6, 3/4 NPS Female Thread
DQMBUNGPP70X612
Bung Closure, EPDM O-Ring, BCS70X6, 3/4 NPS Female Thread

Cap Closure, EPDM O-Ring, 63mm, 3/4 NPS Female Thread
DQMCAPPP63MM
Cap Closure, EPDM O-Ring, 63mm, 3/4 NPS Female Thread

Cap Closure, EPDM O-Ring, 70mm X 3/4 NPS Female Thread
DQMCAPPP70MM
Cap Closure, EPDM O-Ring, 70mm X 3/4 NPS Female Thread
Other
1/2 MNPT Elbow Coupler, with EPDM O-Rings and 316 Stainless Spring
DQPRO120208
1/2 MNPT Elbow Coupler, with EPDM O-Rings and 316 Stainless Spring

1/2 MNPT Elbow Coupler with FKM (Viton) O-Rings and 316 Stainless Spring
DQPRO120208202
1/2 MNPT Elbow Coupler with FKM (Viton) O-Rings and 316 Stainless Spring

1/2 MNPT Elbow Coupler with EPDM O-Rings and Hastelloy C Spring
DQPRO120208206
1/2 MNPT Elbow Coupler with EPDM O-Rings and Hastelloy C Spring

1/2 MNPT Elbow Coupler with FKM (Viton) O-Rings and Hastelloy C Spring
DQPRO120208207
1/2 MNPT Elbow Coupler with FKM (Viton) O-Rings and Hastelloy C Spring
3/4 Hose Barb Elbow Coupler with EPDM O-Rings and 316 Stainless Spring
DQPRO120312
3/4 Hose Barb Elbow Coupler with EPDM O-Rings and 316 Stainless Spring

3/4 BSPP Elbow Coupler with EPDM O-Rings and 316 Stainless Spring
DQPRO120712
3/4 BSPP Elbow Coupler with EPDM O-Rings and 316 Stainless Spring

3/4 BSPP Male Elbow Coupler with FKM (Viton) O-Rings and 316 Stainless Spring
DQPRO120712202
3/4 BSPP Male Elbow Coupler with FKM (Viton) O-Rings and 316 Stainless Spring

3/4 BSPP Male Elbow Coupler with EPDM O-Rings and Hastelloy C Spring
DQPRO120712206
3/4 BSPP Male Elbow Coupler with EPDM O-Rings and Hastelloy C Spring
3/4 BSPP Male Elbow Coupler with FKM (Viton) O-Rings and Hastelloy C Spring
DQPRO120712207
3/4 BSPP Male Elbow Coupler with FKM (Viton) O-Rings and Hastelloy C Spring
Sample Kits
European Sample Kit, includes BSC 56X4 Drum Insert, 905mm Dip-tube, 3/4 BSPP Coupler with EPDM O-Rings and 316 Stainless Spring
DQPROEUSAMP
European Sample Kit, includes BSC 56X4 Drum Insert, 905mm Dip-tube, 3/4 BSPP Coupler with EPDM O-Rings and 316 Stainless Spring

European Sample Kit, includes BSC 56X4 Drum Insert, 905mm Dip-tube, 3/4 BSPP Coupler with FKM (Viton) O-Rings and Hastelloy C Spring
DQPROEUSAMP207
European Sample Kit, includes BSC 56X4 Drum Insert, 905mm Dip-tube, 3/4 BSPP Coupler with FKM (Viton) O-Rings and Hastelloy C Spring

North American Sample Kit, includes 2" Buttress Drum Insert, 905mm Dip-Tube, 1/2 NPT Coupler with EPDM O-Rings and 316 Stainless Spring
DQPRONASAMP
North American Sample Kit, includes 2" Buttress Drum Insert, 905mm Dip-Tube, 1/2 NPT Coupler with EPDM O-Rings and 316 Stainless Spring

North American Sample Kit, includes 2" Buttress Drum Insert, 905mm Dip-Tube, 1/2 NPT Coupler with FKM (Viton) O-Rings and Hastelloy C Spring
DQPRONASAMP207
North American Sample Kit, includes 2" Buttress Drum Insert, 905mm Dip-Tube, 1/2 NPT Coupler with FKM (Viton) O-Rings and Hastelloy C Spring
Sample Kit, includes 2" NPS (ISO G2) Drum Insert, 905mm Dip-tube, 1/2 NPT Coupler with EPDM Flat Gasket and 316 Stainless Spring
DQPRONPSPLSAMP
Sample Kit, includes 2" NPS (ISO G2) Drum Insert, 905mm Dip-tube, 1/2 NPT Coupler with EPDM Flat Gasket and 316 Stainless Spring

Sample Kit, includes 2" NPS (ISO G2) Drum Insert, 905mm Dip-tube, 1/2 NPT Coupler with FKM (Viton) O-Rings and Hastelloy C Spring
DQPRONPSPLSAMP207
Sample Kit, includes 2" NPS (ISO G2) Drum Insert, 905mm Dip-tube, 1/2 NPT Coupler with FKM (Viton) O-Rings and Hastelloy C Spring

DQPRONPSSTSAMP
Sample Kit, includes 2" NPS (ISO G2) Drum Insert, 905mm Dip-tube, 1/2 NPT Coupler with EPDM Bung O-Rings and 316 Stainless Spring

Sample Kit, includes 2" NPS (ISO G2) Drum Insert, 905mm Dip-tube, 1/2 NPT Coupler with FKM (Viton) O-Rings and Hastelloy C Spring
DQPRONPSSTSAMP207
Sample Kit, includes 2" NPS (ISO G2) Drum Insert, 905mm Dip-tube, 1/2 NPT Coupler with FKM (Viton) O-Rings and Hastelloy C Spring
美国CPC塑料快速接头Drumquik系列分装接头 DrumQuik PUR密闭式分配连接系统
DrumQuik PRO /DrumQuik PUR DrumQuik_Dispensing_Systems分装系统
Colder DrumQuik Drum Dispensing Sytsem
CPC DrumQuik桶/分装连接器 PDF Catalog
CPC DrumQuik PRO and DrumQuik PUR dispensing systems
Drum Dispensing : DrumQuik : CPC | DrumQuik PRO - CPC - Colder Products Company | DrumQuik PRO Accessories - CPC - Colder Products Company | CPC (Colder) DrumQuik Pro Drum Insert Plug | Colder DrumQuik PRO Dispensing System | DrumQuik PRO and DrumQuik PUR dispensing systems
CPC化学品分配头 , CPC酸桶接头 , CPC快插接头 , CPC化学桶接头 实物照片