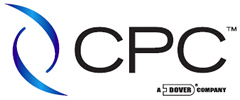 美国CPC NS4无溢漏接头,CPC塑料快速接头
CPC - Colder Products Company | Applications | 电子水冷散热系统 | NS4 系列快速接头
CPC NS4 Series non-spill valves couplings
CPC NS4 Series couplings with RFID-enabled IdentiQuik

详细信息 :

CPC NS4系列接头的特点是尺寸精巧的无泄漏阀门设计且价格合理。如果仅几滴泄漏就会引发安全、介质成本或环境法规问题的话,请使用NS4。这种新颖的接头重量轻、抗化学性能好,便于使用。此无泄漏设计有效消除了泄漏,大程度地减少停机时,提高操作的安全性。 CPC NS4 Series couplings feature non-spill valves in a compact size, at a great price. Use the NS4 when even a few drops pose problems regarding safety, media cost or environmental regulations. These innovative couplings are lightweight, chemically resistant and easy to use. The nonspill design effectively eliminates spills, minimizes downtime and enhances operator safety.
CPC NS4 Series couplings are available with RFID-enabled IdentiQuik technology. RFID-based IdentiQuik couplings redefine what's possible for controlling, protecting and streamlining fluid handling processes. IdentiQuik technology allows the robust transfer of fluid and information to identify device type or connected media, verify line connection accuracy or capture fluid and product data.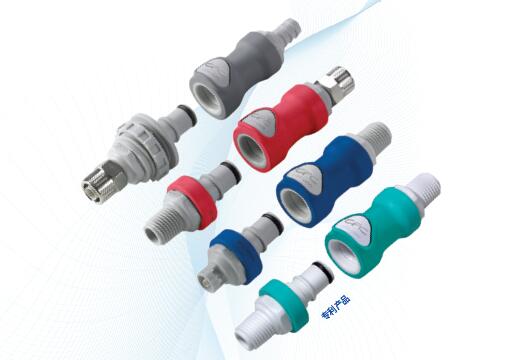 特点
无泄漏设计
颜色编码
玻璃纤维填充聚丙烯
医疗级 ABS

优点
有压断开时不漏
可立即视觉区分医疗管线
持久耐用,可与多种化学品兼容
可经伽玛射线消毒
规格
压力:真空至120 psi,8.3 bar
温度:3 2 °F 至 1 6 0 °F( 0 °C 至 7 1 °C )
材料:
主要元件和阀:玻璃纤维填充聚丙带 TPV*热塑性硫化胶 。ABS 带TPE* 热塑性硫化胶
指锁: 填充玻璃纤维聚丙烯, ABS阀簧:316不锈钢
外簧: 316不锈钢
O 型 圈 :E P D M
颜色:聚丙烯: 标配为灰色,深灰色环氧树脂过模;
可提供灰色带红色或蓝色环氧树脂过模
ABS:白色带青色环氧树脂过模
管道尺寸:1/8"至3/8" ID,3.2mm至9.5mm ID
润滑剂:Krytox PFPE(惰性)
泄漏:<0.10 cc(所有额定压力下每次断开)
杂质:0.26 cc 每次连接
Cv ~ 1.3 max

*环氧树脂过模是一种TPV(热塑性硫化胶)。这种TPV是聚丙烯热逆和全EPDM硫化橡胶的合成品。该材料具有典型防水,防酸和防碱性。 TPE是添加物和異量分子聚合物经特別處理后的合成品。该材料与ABS基質形成持久的黏合,同时具有柔软的手感。 标准产品为黑色另有颜色选择(有低订量及附加费用)
若无特别说明,所有的测量尺寸单位均为英寸(毫米)。管道必须符合规定的内径和外径要求。PTF 配件设计用于半刚性管,例如聚乙烯、尼龙、聚氯酯等。注意:科德公司的快拧式PTF(多管配件)端头不需要套筒以达到安全连接,因此更方便使用和重用。﹡注意:已申请专利的1/8〞ID(3.2u mm)倒钩管接头带有支架护罩,大管道外径为1/4〞(6.4mm)
产品Bodies 母头
NS4D10004

1/4 NPT Valved Coupling Body

NS4D10004BSPT

1/4 BSPT Valved Coupling Body

NS4D13004

1/4 PTF Valved In-Line Coupling Body

NS4D13006

3/8 PTF Valved In-Line Coupling Body


NS4D17002

1/8 Hose Barb Valved In-Line Coupling Body

NS4D17004

1/4 Hose Barb Valved In-Line Coupling Body

NS4D17006

3/8 Hose Barb Valved In-Line Coupling Body

Inserts 公头
1879800

Gasket, Panel Mount, for Coupling Insert (NS4)


1889500

Gasket, Panel Mount, EPDM for Coupling Insert (NS4)


INS4DT2200200

1/8 Hose Barb Valved In-Line IdentiQuik Coupling Insert with RFID, RS-232

INS4DT2200400

1/4 Hose Barb Valved In-Line IdentiQuik Coupling Insert with RFID, RS-232

INS4DT2200600

3/8 Hose Barb Valved In-Line IdentiQuik Coupling Insert with RFID, RS-232

NS4D20004

1/4 PTF Valved In-Line Coupling Insert

NS4D20006

3/8 PTF Valved In-Line Coupling Insert

NS4D22002

1/8 Hose Barb Valved In-Line Coupling Insert

NS4D22004

1/4 Hose Barb Valved In-Line Coupling Insert

NS4D22006

3/8 Hose Barb Valved In-Line Coupling Insert

NS4D23004

1/4 Hose Barb Valved Elbow Coupling Insert

NS4D23006

3/8 Hose Barb Valved Elbow Coupling Insert

NS4D24004

1/4 NPT Valved Coupling Insert

NS4D24004BSPT

1/4 BSPT Valved Coupling Insert

NS4D40004

1/4 PTF Valved Panel Mount Coupling Insert

NS4D40006

3/8 PTF Valved Panel Mount Coupling Insert

NS4D42002

1/8 Hose Barb Valved Panel Mount Coupling Insert


NS4D42004

1/4 Hose Barb Valved Panel Mount Coupling Insert


NS4D42006

3/8 Hose Barb Valved Panel Mount Coupling Insert

NS4D43004

1/4 Hose Barb Valved Panel Mount Elbow Coupling Insert

NS4D43006

3/8 Hose Barb Valved Panel Mount Elbow Coupling Insert
Other
INS4DR1700200

1/8 Hose Barb Valved In-Line IdentiQuik Coupling Reader with RFID, RS-232

INS4DR1700201

1/8 Hose Barb Valved In-Line IdentiQuik Coupling Reader with RFID, USB

INS4DR1700400

1/4 Hose Barb Valved In-Line IdentiQuik Coupling Reader with RFID, RS-232

INS4DR1700401

1/4 Hose Barb Valved In-Line IdentiQuik Coupling Reader with RFID, USB

INS4DR1700600

3/8 Hose Barb Valved In-Line IdentiQuik Coupling Reader with RFID, RS-232

INS4DR1700601

3/8 Hose Barb Valved In-Line IdentiQuik Coupling Reader with RFID, USB
NS4D10004
1/4 NPT Valved Coupling Body
NS4D10004BSPT
1/4 BSPT Valved Coupling Body

NS4D13004
1/4 PTF Valved In-Line Coupling Body

NS4D13006
3/8 PTF Valved In-Line Coupling Body

NS4D17002
1/8 Hose Barb Valved In-Line Coupling Body


NS4D17004
1/4 Hose Barb Valved In-Line Coupling Body

NS4D17006
3/8 Hose Barb Valved In-Line Coupling Body

Inserts
1879800
Gasket, Panel Mount, for Coupling Insert (NS4)

1889500
Gasket, Panel Mount, EPDM for Coupling Insert (NS4)


INS4DT2200200
1/8 Hose Barb Valved In-Line IdentiQuik Coupling Insert with RFID, RS-232

INS4DT2200400
1/4 Hose Barb Valved In-Line IdentiQuik Coupling Insert with RFID, RS-232

INS4DT2200600
3/8 Hose Barb Valved In-Line IdentiQuik Coupling Insert with RFID, RS-232


NS4D20004
1/4 PTF Valved In-Line Coupling Insert


NS4D20006
3/8 PTF Valved In-Line Coupling Insert

NS4D22002
1/8 Hose Barb Valved In-Line Coupling Insert

NS4D22004
1/4 Hose Barb Valved In-Line Coupling Insert

NS4D22006
3/8 Hose Barb Valved In-Line Coupling Insert

NS4D23004
1/4 Hose Barb Valved Elbow Coupling Insert

NS4D23006
3/8 Hose Barb Valved Elbow Coupling Insert


NS4D24004
1/4 NPT Valved Coupling Insert


NS4D24004BSPT
1/4 BSPT Valved Coupling Insert

NS4D40004
1/4 PTF Valved Panel Mount Coupling Insert


NS4D40006
3/8 PTF Valved Panel Mount Coupling Insert

NS4D42002
1/8 Hose Barb Valved Panel Mount Coupling Insert


NS4D42004
1/4 Hose Barb Valved Panel Mount Coupling Insert


NS4D42006
3/8 Hose Barb Valved Panel Mount Coupling Insert


NS4D43004
1/4 Hose Barb Valved Panel Mount Elbow Coupling Insert

NS4D43006
3/8 Hose Barb Valved Panel Mount Elbow Coupling Insert

Other

INS4DR1700200
1/8 Hose Barb Valved In-Line IdentiQuik Coupling Reader with RFID, RS-232

INS4DR1700201
1/8 Hose Barb Valved In-Line IdentiQuik Coupling Reader with RFID, USB


INS4DR1700400
1/4 Hose Barb Valved In-Line IdentiQuik Coupling Reader with RFID, RS-232


INS4DR1700401
1/4 Hose Barb Valved In-Line IdentiQuik Coupling Reader with RFID, USB


INS4DR1700600
3/8 Hose Barb Valved In-Line IdentiQuik Coupling Reader with RFID, RS-232

INS4DR1700601
3/8 Hose Barb Valved In-Line IdentiQuik Coupling Reader with RFID, USB
NS4无溢漏接头,CPC塑料快速接头