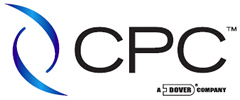 CPC NS212系列接头跟CPC其它无溢漏系列的接头一样,为提供快速、安全、真正无泄漏管线连接而设计。NS212提供了一种快速、旋接式接头,带一体式锁紧装置和双面无泄漏截止阀。NS212 亦具有抗化学性,是许多应用的理想产品。CPC NS212 Series couplings were built on the company's proven platform of non-spill valves designed to provide fast, safe and virtually leak-free fluid line connections. NS212 is an easy, twist-to-connect coupling with an integrated locking mechanism and double-sided non-spill shutoff valves. The NS212 is also chemically resistant making it ideal for a diverse range of applications.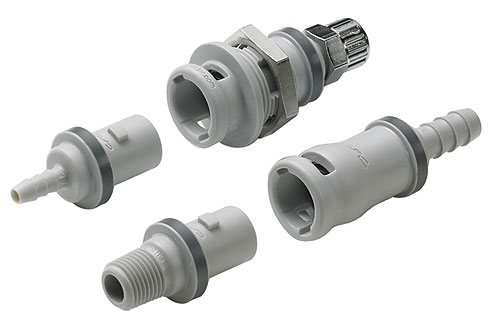 功能与效益

FeaturesBenefits
Efficient, non-spill designDisconnect under pressure with no spills
Multiple seal materials
Broad chemical compatibility for diverse applications
Twist-to-connect locking
Easy, non-spill connections in tight
spaces
Compact design
High flow in a small connector
Ultra low air inclusion
Minimizes contaminants, reduces the need to purge lines

产品规格

Pressure:Vacuum to 45 psi, 3.1 bar
Temperature:32° F to 120° F/0° C to 49°C
Flow capacity: Cv~0.45
Spillage:<0.025 cc/disconnect
Inclusion:0.009 cc/connect
Materials:
Main components and valves:Glass-filled polypropylene
Valve spring: 316 stainless steel
Seal material: EPDM (FKM/Simriz FFKM optional)
Color:Gray with black accent standard
Tubing Sizes:1/8" to 1/4" (3.2mm to 6.4mm)
WARNING: Pressure, temperature, chemicals and operating environment can affect the performance of couplings. It is the customer's responsibility
to test the suitability of Colder products in their own application conditions. Use the graphs above as a guide.

Cv值

Cv ~0.45
Legend


产品Bodies

NS2D100212

1/8 NPT Valved Coupling Body

NS2D120412

1/4 PTF Valved Panel Mount Coupling Body

NS2D130412

1/4 PTF Valved In-Line Coupling Body

NS2D160212

1/8 Hose Barb Valved Coupling Body

NS2D160412

1/4 Hose Barb Valved Coupling Body

NS2D170212

1/8 Hose Barb Valved In-Line Coupling Body

NS2D170412

1/4 Hose Barb Valved In-Line Coupling Body
Inserts
NS2D200412

1/4 PTF Valved In-Line Coupling Insert

NS2D220212

1/8 Hose Barb Valved In-Line Coupling Insert

NS2D220412

1/4 Hose Barb Valved In-Line Coupling Insert

NS2D240212

1/8 NPT Valved Coupling Insert
NS2D1002121/8" Male NPTBody - ValvedEPDMPolypropylene
NS2D1204121/4" OD Ferruless Poly-TubeBody - Panel Mount - ValvedEPDMPolypropylene
NS2D1304121/4" OD Ferruless Poly-TubeBody - ValvedEPDMPolypropylene
NS2D1602121/8" Hose BarbBody - Panel Mount - ValvedEPDMPolypropylene
NS2D1604121/4" Hose BarbBody - Panel Mount - ValvedEPDMPolypropylene
NS2D1702121/8" Hose BarbBody - ValvedEPDMPolypropylene
NS2D1704121/4" Hose BarbBody - ValvedEPDMPolypropylene
NS2D2004121/4" OD Ferruless Poly-TubeInsert - ValvedEPDMPolypropylene
NS2D2202121/8" Hose BarbInsert - ValvedEPDMPolypropylene
NS2D2204121/4" Hose BarbInsert - ValvedEPDMPolypropylene
NS2D240212 1/8" Male NPT Insert - Valved EPDM Polypropylene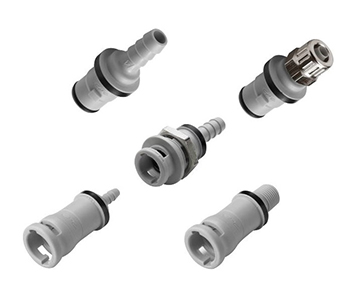 NS2D100212
1/8 NPT Valved Coupling Body

NS2D120412
1/4 PTF Valved Panel Mount Coupling Body

NS2D130412
1/4 PTF Valved In-Line Coupling Body


NS2D160212
1/8 Hose Barb Valved Coupling Body

NS2D160412
1/4 Hose Barb Valved Coupling Body


NS2D170212
1/8 Hose Barb Valved In-Line Coupling Body

NS2D170412
1/4 Hose Barb Valved In-Line Coupling Body

Inserts

NS2D200412
1/4 PTF Valved In-Line Coupling Insert


NS2D220212
1/8 Hose Barb Valved In-Line Coupling Insert


NS2D220412
1/4 Hose Barb Valved In-Line Coupling Insert


NS2D240212
1/8 NPT Valved Coupling Insert